Head to Head:
The 2020 Jeep Gladiator vs. The 2019 Ford Ranger
The following article compares and contrasts the various features of the new 2020 Jeep Gladiator and the 2019 Ford Ranger. For a shortened summary, please skip to the summary. If you would like to browse new inventory for the 2020 Gladiator, you can visit our Gladiator inventory page. For 2019 Ranger inventory, you can check out Damerow Ford's inventory page.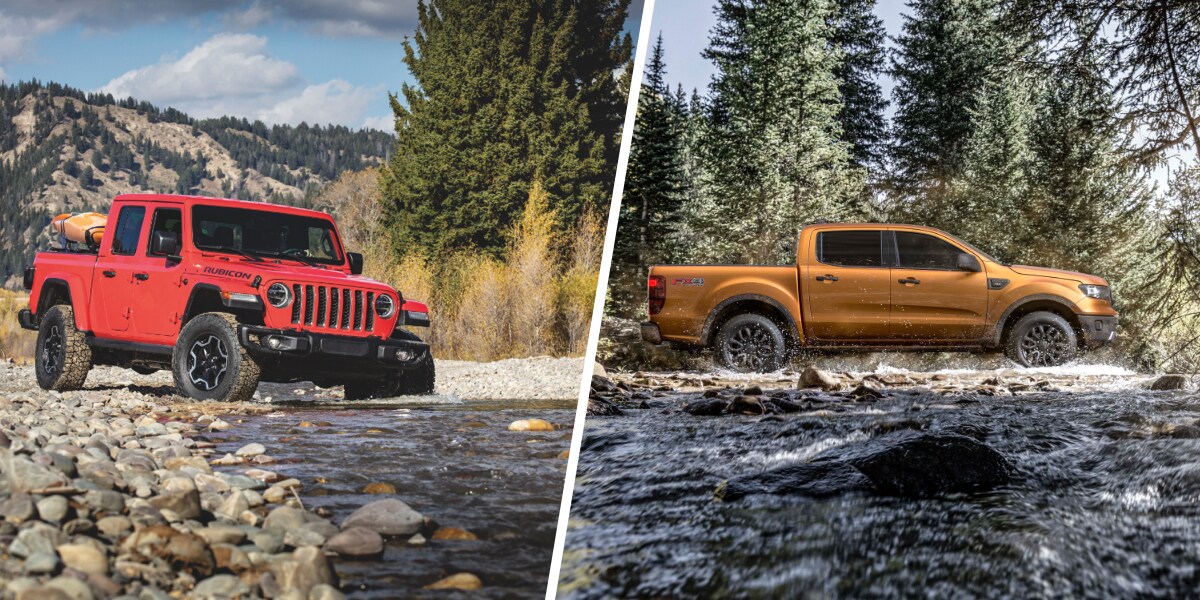 Performance & Capability
---
| | 2020 Jeep Gladiator | 2019 Ford Ranger |
| --- | --- | --- |
| Engine | 3.6L V6 Pentastar | 2.3L EcoBoost |
| Horsepower | 285 | 270 |
| Torque | 260lb-ft | 310lp-ft |
| Transmission | 6-Speed Manual or 8-Speed Automatic | 10-Speed Automatic |
| Towing | 7,650lbs | 7,500lbs |
| Payload | 1600lbs | 1650lbs |
| EPA | 16 MPG (city) - 23 MPG (highway) | 21 MPG (city) - 26 MPG (highway) |
The 2020 Gladiator and 2019 Ranger are neck-and-neck when it comes to towing capacity and payload. Given the specifications, the only variance is that the Gladiator can tow 150 pounds more, while the Ranger can hold 50 more pounds in the truck itself. The biggest advantage Gladiator holds over Ranger is its transmission options. The Gladiator comes with either a 6-speed manual transmission or an 8-speed automatic transmission, while the Ranger only has the 10-speed automatic transmission.
The Gladiator's 3.5L V-6 engine slightly outperforms the Ranger's 2.3L turbocharged 4-cylinder engine in terms of horsepower—the Gladiator with 285hp and the Ranger with 270hp. But what the Ranger lacks in horsepower, it makes up in torque, offering 310lb-ft of torque compared to Gladiator's 260lb-ft of torque. With the Ford EcoBoost engine, fuel efficiency also favors the Ford Ranger, providing 21 mpg city and 26 mpg highway in RWD. The 4WD Ranger model sees only a slight decrease in fuel efficiency with 20 mpg city, 24 mpg highway. In V6 form, the Gladiator gets you 16 mpg in the city and 23 mpg on the highway in 4WD.
Winner: Tie.
Both have their slight advantages and disadvantages when it comes to engine performance and capability. While there is no clear winner, both trucks are best in their class and should be considered as top-level competitors among other pickups.
Off-Roading
---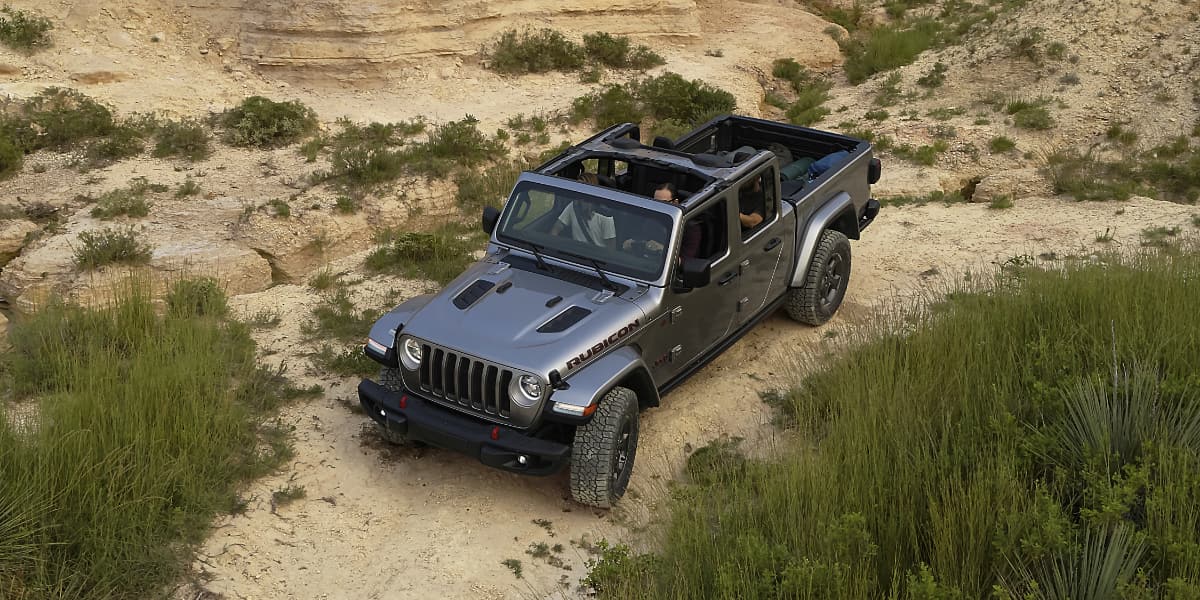 Similar to the Jeep Wrangler, every Jeep Gladiator is 4WD, so it has a bit more off-roading capability than the base 2019 Ranger package. While the standard Ranger doesn't utilize any technology or equipment specifically designed for off-roading, there are numerous off-road packages available at an additional cost. The Ranger's off-road package includes a lot of remarkable off-road equipment, including skid plates, transfer case, and front differential. But perhaps its greatest off-road feature is its terrain management system, which has four modes designed for various types of terrain you may encounter.
The Jeep Gladiator's Rubicon package, similar to the Wrangler's, includes some unbelievable off-road equipment, including lockable axles, an electronic front sway bar, FOX shocks, and 33" all-terrain tires. Even the 2020 Gladiator base model comes with off-road capabilities. Included in all models—at no additional charge—is a Dana 44 front and rear axle. This heavy-duty axle helps the Gladiator conquer all terrains and gives it that unbeatable front-wheel navigation.
Winner: Gladiator.
This is where we see the biggest difference between the two pickups. The Gladiator was built specifically for hauling your bikes, ATVs, and other toys through rough terrain, while the Ranger is designed more as a hybrid for daily driving to the office, with the occasional off-roading experience.
Exterior
---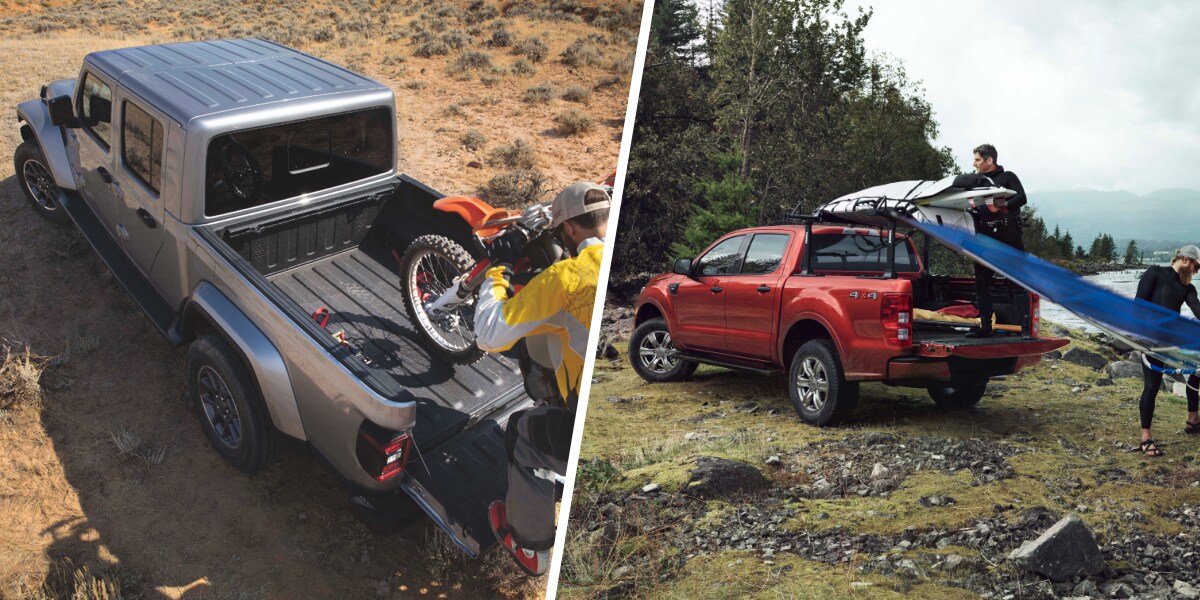 | | 2020 Jeep Gladiator | 2019 Ford Ranger |
| --- | --- | --- |
| Wheelbase | 137.3 inches | 126.8 inches |
| Length | 218.0 inches | 210.8 inches |
| Height | 73.1 inches | 71.5 inches |
| Width | 73.8 inches | 85.5 inches |
| Truck Bed Length | 60 inches | 60 - 72 inches |
If you're an admirer of Jeep's history of rugged aesthetics, you'll enjoy the look of the new 2020 Gladiator. Similar to its predecessors, the Gladiator comes with the choice of no top, soft top, or hard top. For those seeking the "no top" option, note that it will come roofless, doorless, and have a foldable windshield—rendering it the only open-air pickup on the market. While the Gladiator shares many visual features with the Wrangler, it obviously has a much larger frame as well as a larger front grille.
The 2019 Ranger model is by no means unique, nor does it boast any sort of new design we haven't seen on the market. That being said, its rounded look is exactly what consumers are looking for when shopping for a modern pickup. Its popular design screams "You can drive me off-road in the mud, or you can drive me to work in the city." While it may not offer any new visual innovation like the Gladiator, some may view the Ranger's sleek design as a benefit.
Focusing on technical specifications, The Gladiator offers more ground clearance in comparison to the Ranger, which helps drivers navigate rocky, uneven paths they may venture off-road. While the Ranger boasts a larger rear bed as an option, the Gladiator is eight inches longer due to its extended front-half.
Winner: Tie.
These two pickups are evenly matched, and it ultimately comes down to personal preference. If you want a pickup whose design looks at home in a rock-crawling environment, the Gladiator is for you; if you want a pickup whose design looks better fit for the family farm or downtown corporate office, the Ranger has that look.
Interior
---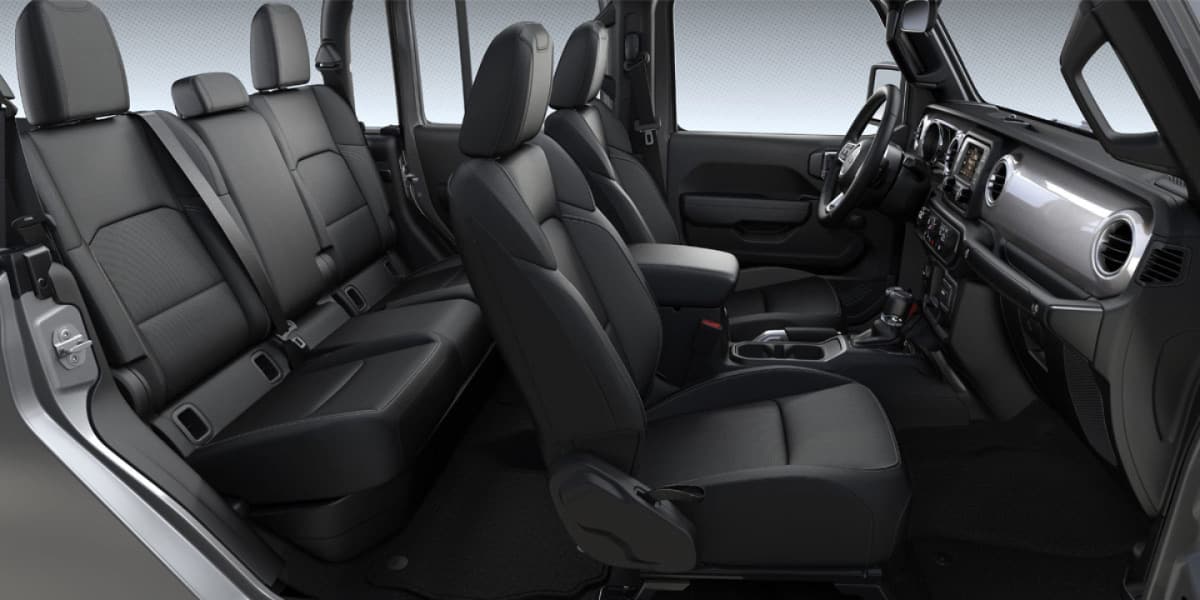 | | 2020 Jeep Gladiator | 2019 Ford Ranger |
| --- | --- | --- |
| Interior Volume | 103.0 cubic feet | 97.6 cubic feet |
| Infotainment Screen Size | 7 - 8.4 inches | 4 - 8 inches |
| Trim Options | Sport, Sport S, Overland, Rubicon | XL, XLT, Lariat |
| Apple CarPlay / Android Auto | Available | Available |
| ADAS | Available | Available |
If you plan on having passengers in your pickup, you can't go wrong with either vehicle. The 2019 Ranger houses a comfortable 97.6 cu ft interior in its four-door model, while the Gladiator is at an astounding 103 cu ft. For front passengers, the Ranger offers a more comfortable and roomy option. However, rear passengers will have a much better time in the Gladiator as it offers four inches more legroom than the largest Ranger, along with a removable top option for those warm sunny days. Regardless, both have an impressive interior for anyone looking for extra leg room for their passengers.
The Ranger's base model interior is only available in one color, though upgrades are available at additional cost. The infotainment screen ranges from 4" to 8" and comes with driver assistance. The 2019 Ranger also offers adaptive cruise control, as well as pre-collision assist. Even with the base model, the Gladiator's interior looks sophisticated and comes in a variety of colors. The smallest screen size for the Gladiator is 7" and the largest is 8.4." Both have lightning-quick response time. On certain models, the Gladiator offers adaptive cruise control with forward-collision warning and active braking. These are incredibly useful safety features rarely seen on pickups in this range.
While Ranger's latest version of SYNC (an integrated in-vehicle communications/entertainment system) has vastly improved since previous models, the Gladiator's UConnect system remains best-in-class. Not only does it support phone connections for those who use Apple Car Play and/or Android Auto, but it also has advanced integration with satellite radio. Additionally, Uconnect has additional features for off-roading, including pitch roll visualization, accessory gauges, and optional front-facing trail camera, to name a few. It even features a navigation system that can track your off-road excursion to share with friends.
Winner: Gladiator.
While both vehicles are well-equipped and overly spacious for its passengers, the Gladiator takes this category with its extra legroom, larger infotainment system, and better integration with mobile devices.
Price
---
| | 2020 Jeep Gladiator | 2019 Ford Ranger |
| --- | --- | --- |
| MSRP | Starting at $33,545 | Starting at $24,300 |
Winner: Ranger
Disclaimer: MSRP pricing is provided by JEEP.com and Ford.com.
Summary
---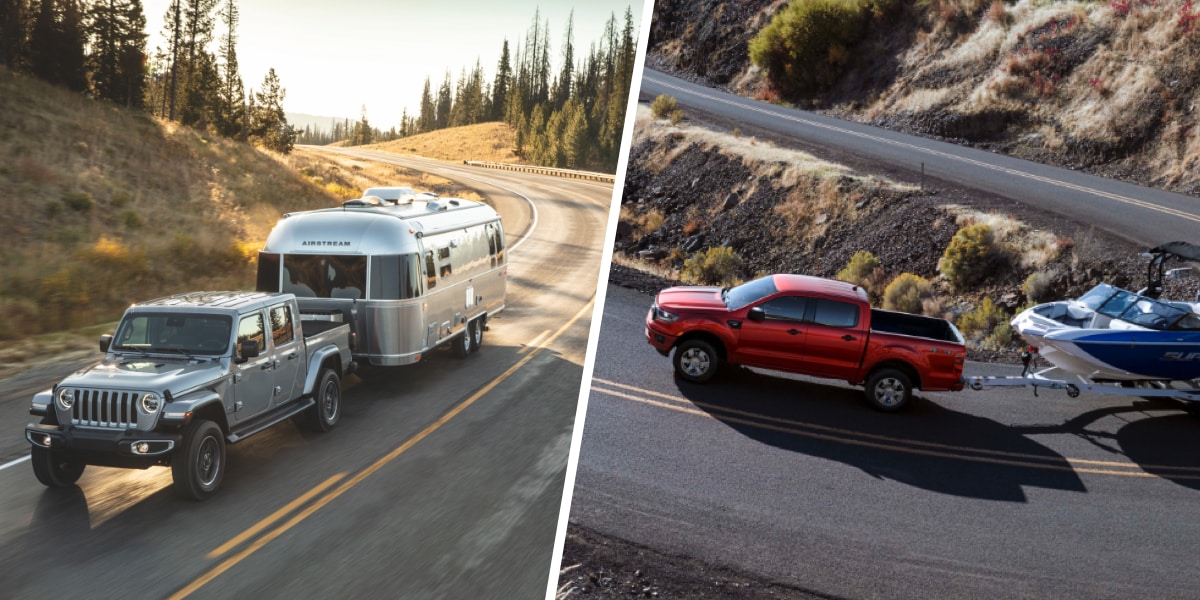 Both the 2020 Gladiator and the 2019 Ranger check just about every box when it comes to towing and hauling, technology, safety features, and everything else one would look for in a midsize truck. While these two pickups may appear as polar opposites, they are evenly matched in comparison to one another.
The Ranger is designed as a hybrid for those looking for a daily driver for work and a vehicle for towing their toys on the weekend. It's fuel efficiency, powertrain, sleek design and low cost makes it appealable to a bigger audience. In essence, it's a truck designed to do truck-like things.
The Gladiator, on the other hand, is designed to appeal to those who love off-roading. It's impressive size, high ground clearance, heavy-duty axles, and off-roading technology makes it the ideal vehicle for exploring unpaved roads. Additionally, it offers more customization with endless configurability, similar to its Wrangler predecessors.
When it comes down to it, they are both great in their own way—it's up to you to decide which is a better fit for your lifestyle.
Winner: Tie
Shop Now
---
Browse Gladiator Inventory
Browse Ranger Inventory